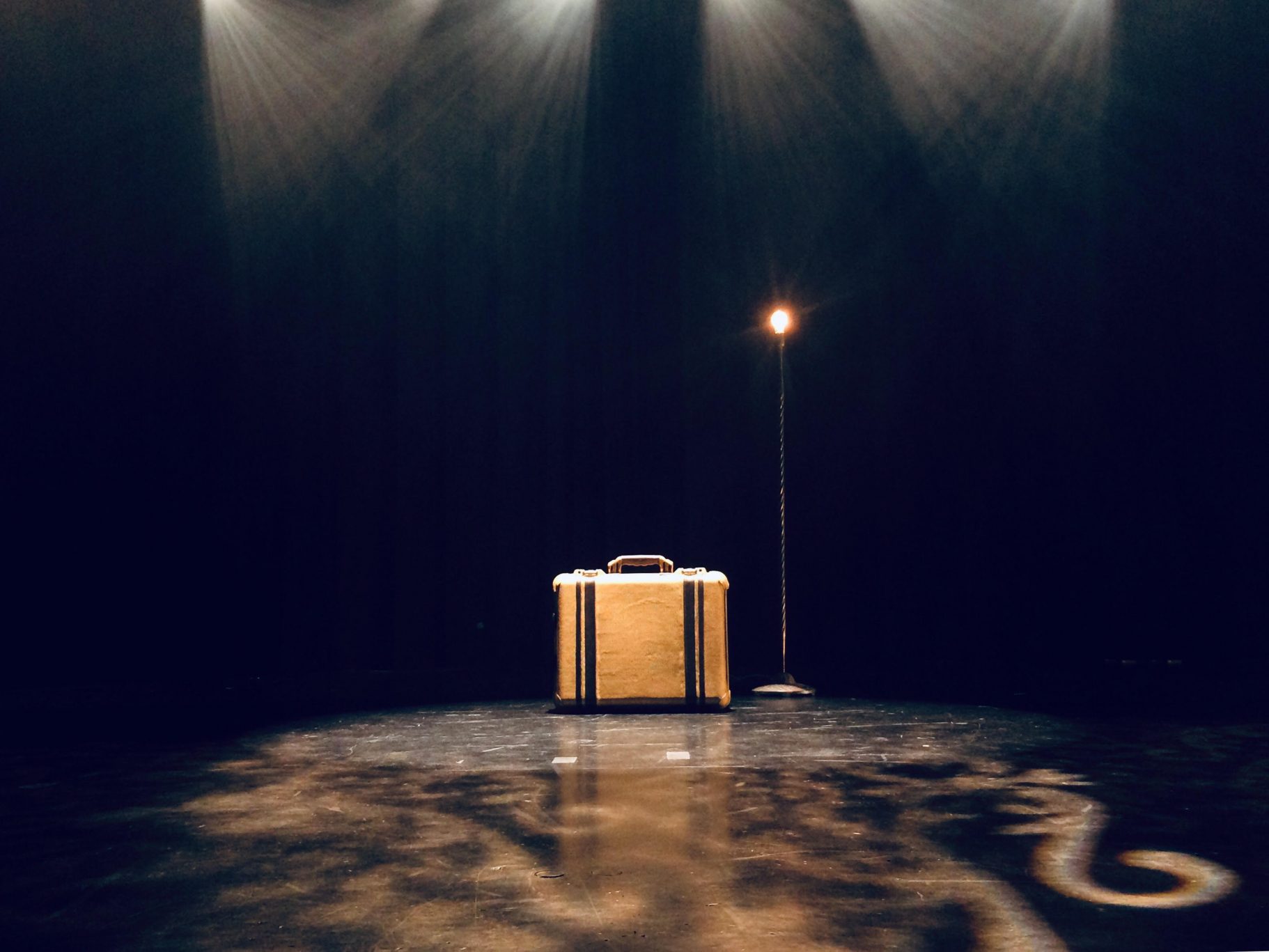 A travelling suitcase lands at the entrance to a school. It has a story to tell… Inside, two polyphonic stories need nothing more than a connection to a power source to be revealed to the students. Postcards, pyramids, rowboats and marshmallow trees collide in these travel tales, inviting young and old to dive head first, eyes closed into a poetic and sensory adventure, reviving the imagination and quarantining all screens for the duration of the flight.
Safe, simple and versatile, La Voyageuse is an immersive stereophonic experience, developed specifically to comply with current health standards. Designed for the classroom, performances require no outside presence on site and are accompanied by a complementary activity.
La Mésange et le Baobab (The Baobab and the Chickadee)
by Véronique Côté
Grades 1 – 4 
Lucile and Albert are best friends, lifelong kind of friends. They live very close to each other, but now Albert is moving. What will happen to their friendship? As they create imaginary landscapes together, Lucile and Albert ask each other about pain, courage and the notion of ​​travel. Like, what does it mean to travel …? Do you absolutely have to get on a plane? Can you travel without moving, your body staying where it is, but your mind as free as a chickadee? And also, when we're all grown up… will we still be friends?
22 guimauves autour du monde (22 Marshmallows around the World)
by Steve Gagnon
Grades 5 – 8
Mado is a shy young teenager. But her curiosity is huge. To help her family make ends meet, she works at the Maurice Levasseur et Fille convenience store. She leads a rather mundane life until the day the owner, Suzette, offers her a special promotion: to be the new bicycle delivery person. But what Mado will be distributing is particularly precious… marshmallows! And so, on her heavy bike, loaded with this rarest of commodities, Mado embarks on a trip around the planet, to save the most beautiful things the world has to offer.
Production Théâtre des Confettis
Artistic Direction Maryse Lapierre and Sylvain Perron, together with Hélène Blanchard and Judith Savard
Texts and direction Véronique Côté and Steve Gagnon
Sound design and original music Josué Beaucage
Cast 
- La Mésange et le Baobab Frédérique Bradet, Natalie Fontalvo, Marianne Marceau and Élie St-Cyr
- 22 guimauves autour du monde Lise Castonguay, Jonathan Gagnon, Jean-Michel Girouard, Lauren Hatley, Linda Laplante, Éric Leblanc, Véronika Makdissi-Warren and Marianne Marceau
Suitcase design Amélie Trépanier

Friendship
Travel
Emotions
Time
Values
Nature
La Voyageuse: a COVID friendly project
This auditory creation was developed specifically to respect sanitary measures and to ensure the safest experience possible for students and teachers. A member of the Théâtre la Seizième team will show up to the school with a disinfected suitcase. If necessary, they will provide technical support.
In the suitcase:
Recording of the audio stories, read by actors.
Equipment and installation plan for your classroom (a power outlet is necessary)
Pedagogical support for the listening experience
Disinfectant wipes
Once the equipment is set up, all you need is to press PLAY. And the show begins!
Grade level: one audio story to choose from per class
Grade 1 to grade 4: La Mésange et le Baobab
Grade 5 to grade 8: 22 guimauves autour du monde
Cost: 75$ per play
Minimum of 2 plays per day for schools in the Lower Mainland
Minimum of 4 plays per day for the schools outside of the Lower Mainland
Length:
La Mésange et le Baobab: 20 minutes
22 guimauves autour du monde: 33 minutes
Please plan for a minimum of 1 hour per class for the experience, including the installation, the performance, and the supplementary activities.
Number of students: 30 maximum