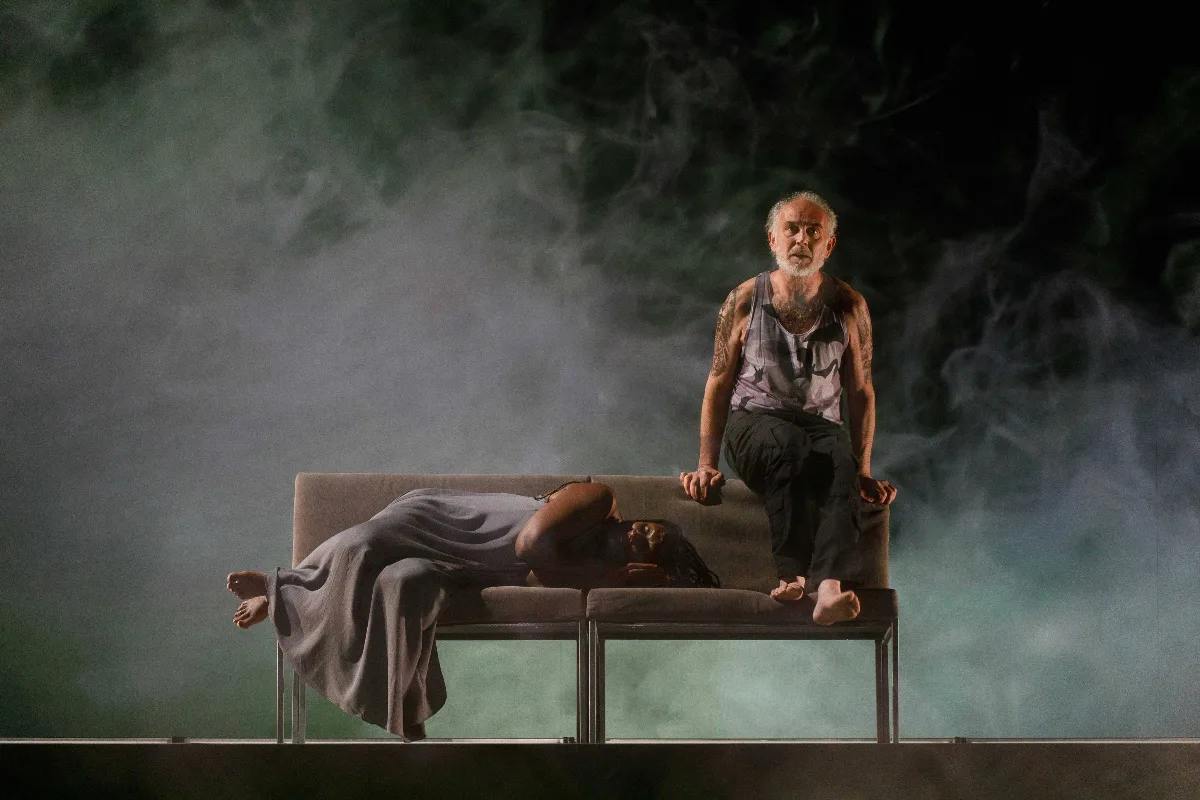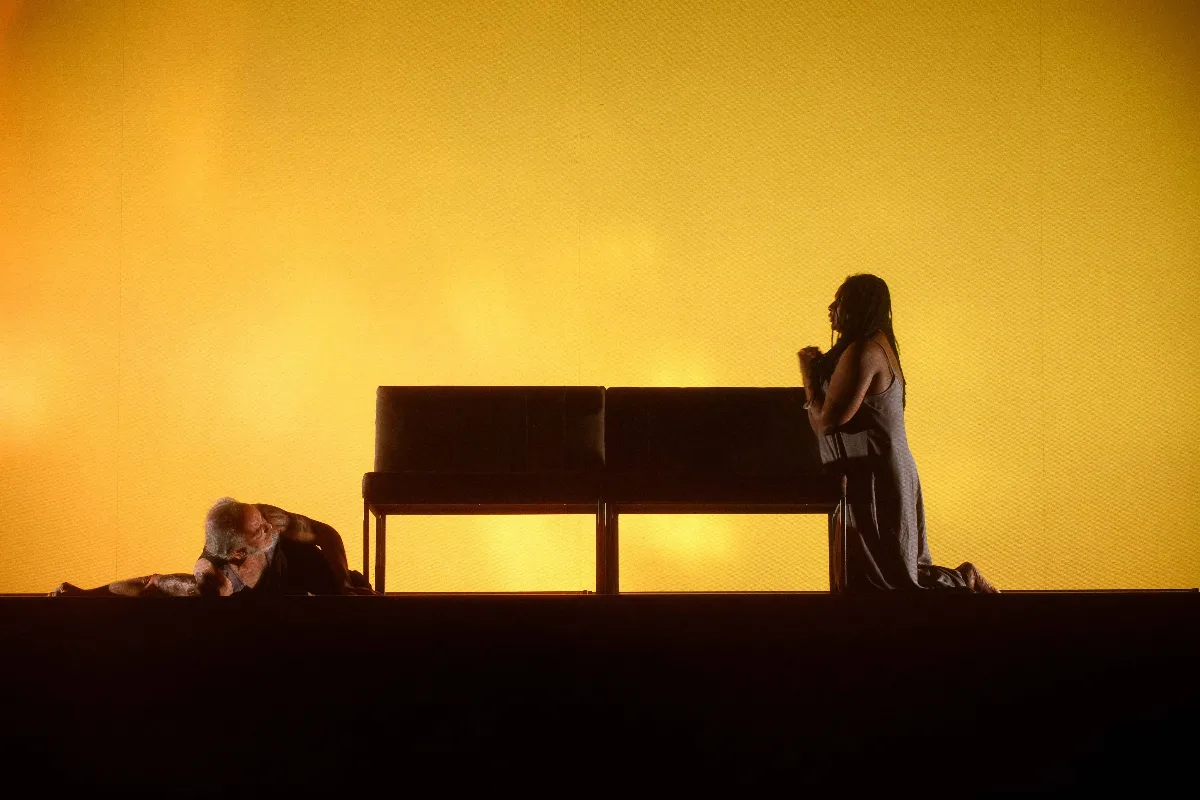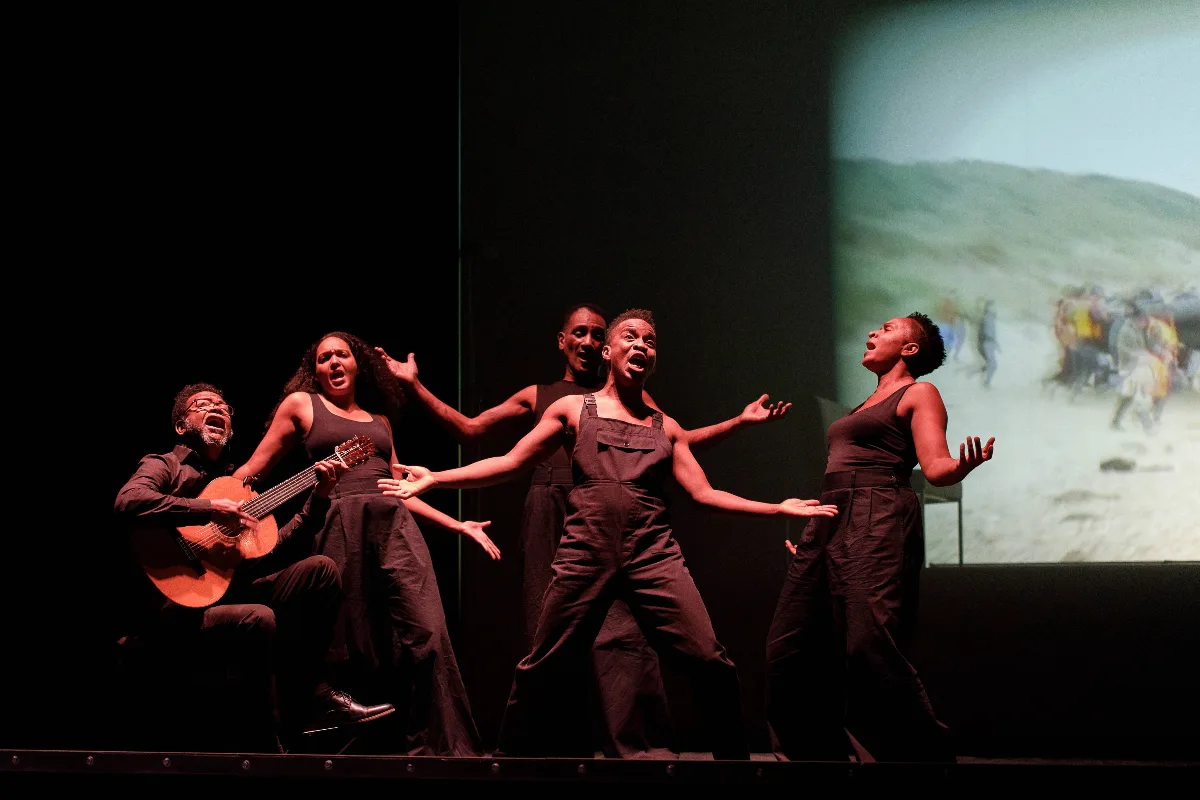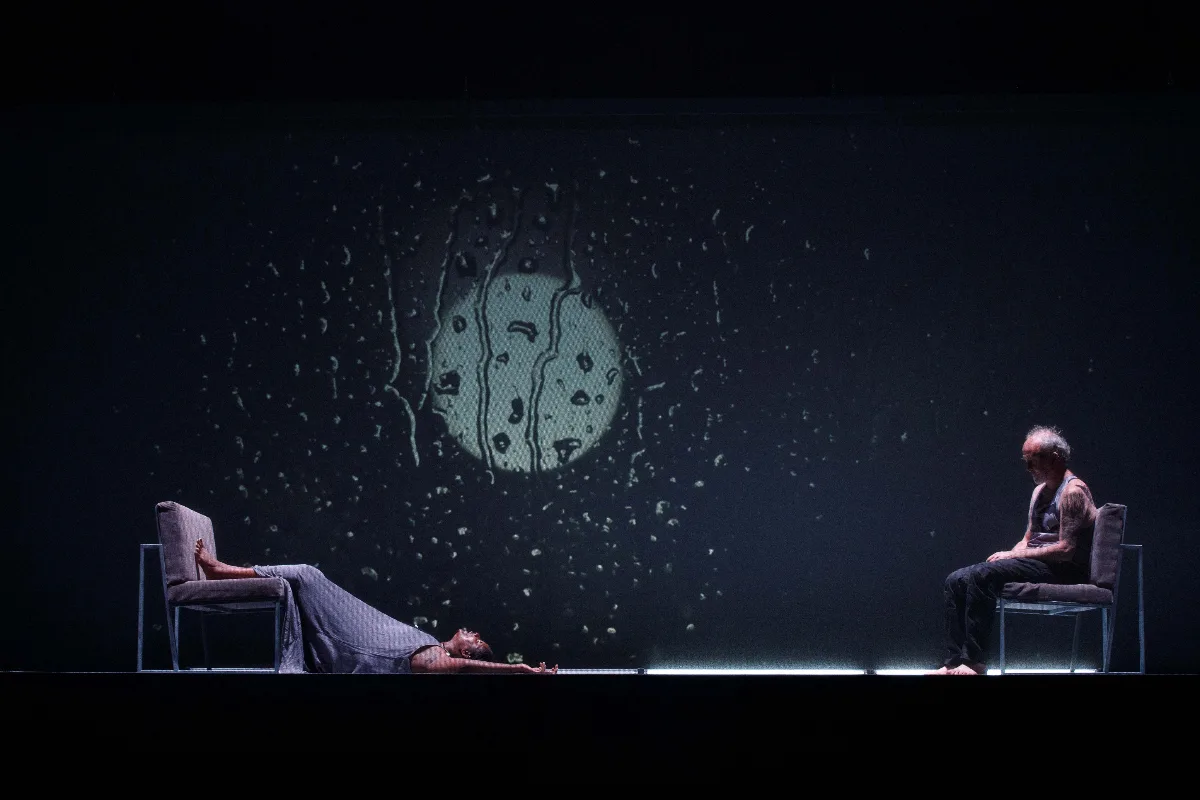 Montreal, Quebec: a couple is arguing. He and she talk, talk but don't hear each other. Their emotions are brutal, overwhelming them. Across the ocean, men, women and children set sail on rickety boats. Searching for a better future, these uprooted people attempt to reach new lands and loved ones by way of the waves. Only to then start all over again, somewhere else. 
A devastating work filled with lyricism and political scope, L'amour telle une cathédrale ensevelie tells the tragic story of exiled and dislocated Haitian families. Born into one of these families, author and director Guy Régis Jr composes a cathartic opera-theatre in Creole and French. Accompanied by Haitian classical guitarist Amos Coulanges, a chorus sings of hope and despair, of mourning the countless people lost at sea and the relentless journeys from Haiti to Canada, from Senegal to France…
"Shockingly beautiful, 'political' shock, this tragedy has shaken, enthralled, and received standing ovations from the audience." — Le Populaire
"This opera-theatre piece written and directed by Guy Régis Jr is a powerful work of art." — Mediapart
"This Haitian artist blends genres, subverts clichés, and offers up an overwhelmingly powerful theatrical work. " — Sceneweb
"One of the rare jewels of this theatre season." — loeildolivier.fr 
Production NOUS Théâtre (France/Haiti)
Text and direction Guy Régis Jr
Assistant Director Hélène Lacroix
Cast Déborah-Ménélia Attal, Frédéric Fachena, Jean-Luc Faraux, Dérilon Fils, Aurore Ugolin, Natalie Vairac
Music and guitar Amos Coulanges
Set and costume design Velica Panduru
Set building Ioan Moldovan, Tukuma Works
Lighting design Marine Le Vey
Lighting technician Michael Brunet
Video design Dimitri Petrovic
Sound design François Van Opstal
Stage management Samuel Dineen
Tour management Jessica Régnier - Les 2 Bureaux / La GDS
 
Co-production Les Francophonies, des écritures à la scène; Théâtre Nanterre-Amandiers - Centre Dramatique National ; le Théâtre de l'Union - Centre Dramatique National du Limousin; l'Académie de France à Rome - Villa Médicis; l'Association 4 Chemins; la Compagnie La Lune Nouvelle
With the financial support of DRAC Île-de-France, Région Île-de-France, City of Paris, Commission Internationale du Théâtre Francophone (production and distribution), Canada Council for the Arts, Conseil des arts et des lettres du Québec, Institut Français in Paris, SACD Musique de Scène Fund, International Organization for Migration, ADAMI
And the support of Collectif 12, Théâtre 14, Chartreuse - Centre national des écritures du spectacle, Cité Internationale des Arts, L'acteur et l'écrit - Cie Frédéric Dussenne ASBL, Théâtre Ouvert - Centre national des dramaturgies contemporaines
 
With the support of Consulate General of France in Vancouver 

This show addresses some sensitive topics that may not be suitable for everyone. Please contact our box office via email at ventes@seizieme.ca or by phone at 604-736-1626 for more information.