Interview with the Straight Jacket Winter's team on tour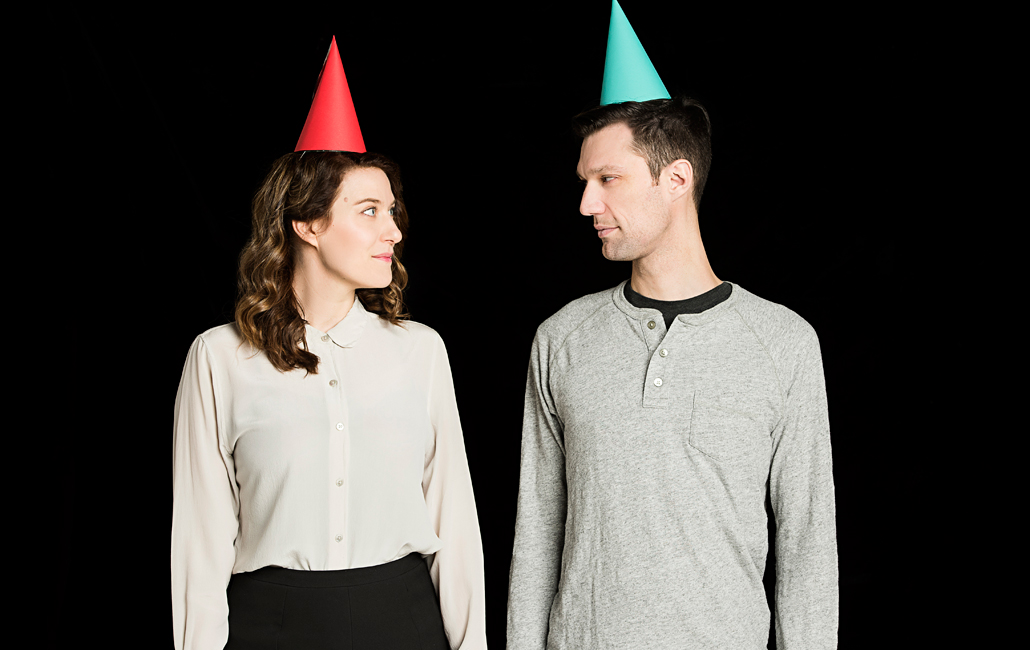 Straight Jacket Winter is back on the road. Next destination : Montréal, Caraquet and Moncton. Less than a week before opening night at Théâtre La Licorne (Montréal), we have news from the team in rehearsals. Esther Duquette, co-writer, co-director and actor, answers our questions between two work sessions.
1- How is the team preparing for this return to the stage, after a one-year hiatus?
The whole team just assembled in Montreal to get the show running again! We have one week of rehearsals, and then it will be show time at Théâtre La Licorne. During the first few days, everybody is a bit disoriented. But soon, we relearn our text and get back into our old habits. Most of the information is stored in our brains. It's just a matter of finding it again! We are lucky to be able to rely on the original cast (Frédéric Lemay and Julie Trépanier). It really speeds things up.
Each tour is also an opportunity to fine-tune the staging and the text. Because Gilles and I are playing ourselves, and because our lives continue to evolve, it's important to update what we are saying. It's a matter of authenticity and sincerity. We are also adapting some elements according to the audience, which helps us create a greater complicity with its members.
2- It is the first time that a production by Théâtre la Seizième will be performed in Montréal. How significant is this?
Montréal is undoubtedly the epicentre of French-language theatrical creation in Canada. It's where most of the shows are created, and it is home to a deep pool of theatre artists. Performing in Montréal is an opportunity to show our work to our peers and to enter into dialogue with them in a different way. Montréal audiences have the reputation of being demanding. Every season, they can see many shows. We are a bit nervous about this upcoming encounter, but we have faith in Straight Jacket Winter. We have had the good fortune to perform this play more than 30 times across the country and, each time, it moved the audience and initiated a conversation about isolation and life as an expat.
3- Most performances of Straight Jacket Winter in Montréal have sold out for several weeks, despite the scheduling of two additional performances. That must feel good?
Yes! We are, of course, thrilled that we'll get to play for nice packed houses! Word of mouth got going with our previous tours, and it looks like it made it all the way to Montréal. I think the connections we are making with Réjean Ducharme's novel L'hiver de force during the show have probably helped generate interest. Montreal has a special fascination for this unclassifiable author who passed away recently. We should also mention that La Licorne (home of Théâtre de la Manufacture) is a venue that has a fantastic reputation. Its shows are in great demand! Needless to say, we are very excited…
4- After Montréal, you go further east for a quick stop in New Brunswick, at the other end of the country (literally). How was this tour organized?
More than two years ago, we workshopped Straight Jacket Winter in front of an audience at Zones théâtrales, in Ottawa. Maurice Arsenault, the artistic director of the Théâtre populaire d'Acadie, in Caraquet, was in the hall. He really liked the show and decided he wanted to present it, even though he did not approve of the English title! [laughter] Marcia Babineau, the artistic director of Théâtre l'Escaouette, in Moncton, joined in, making it possible for us to put together a nice tour in Eastern Canada. These two theatres are known for the unparalleled way in which they treat the artists, and we are really looking forward to dropping by!