Four Vancouver artists in a Pan-Canadian project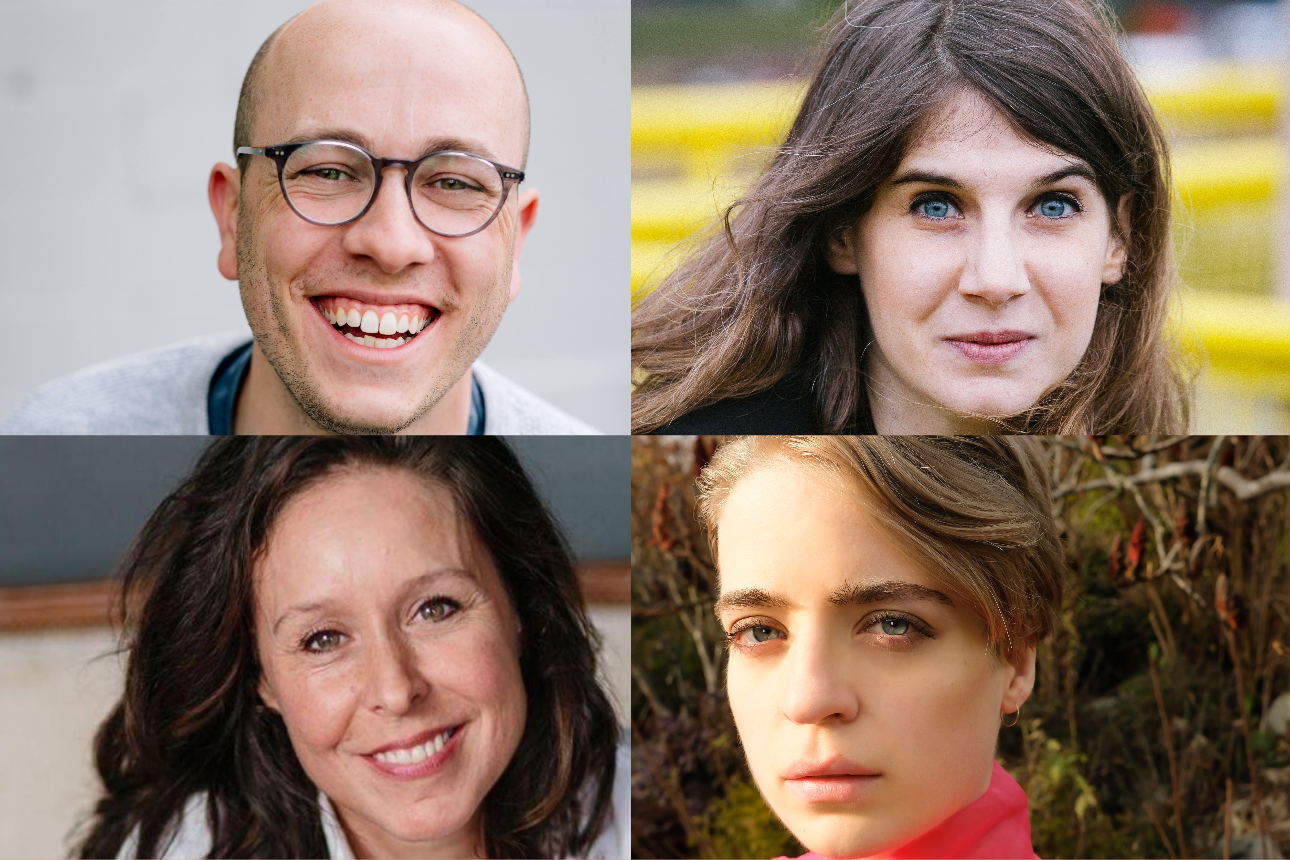 Created through a unique process and weeks of rehearsals, the identity patchwork "Un.Deux.Trois". is now touring the country and brings 36 francophone Canadian artists to 9 stages in 9 different cities across the country. Featuring in this performance-event, four Vancouverites: France Perras, Anaïs Pellin, Cory Haas et Anais West. These creators share with us their impressions, surprises and enthusiasm for this large-scale artistic project!
How would you describe Un.Deux.Trois. in a few words? What is it for you?
Anais West: Un.Deux.Trois. is a chaotic, noisy and theatrical cacophony. It's an intense and relentless gutting of what it means to be French-speaking in so-called "Canada," and what it means to try to form a community.
Cory Haas: A theatrical delirium. An epic ride that tackles issues of identity; a French-speaking Canadian madness. It is three pieces by Mani Soleymanlou which culminate with Trois and its 36 artists on stage.
France Perras: Out of this world. A theatrical experience not to be missed. An opportunity to discover great artists from all across Canada! For me, it's been an opportunity to meet fellow French-speaking artists from across the country, to share our realities and experiences.
Anaïs Pellin: A surreal and daring Pan-Canadian identity patchwork, an incredibly entertaining and profound theatrical UFO.
What surprised you the most during the creative process with close to 40 artists?
Cory Haas: The ease and joy in which the process happened. Despite difficult themes that can quickly turn into a shouting match (which happened), we are all at the service of the project. Some of these arguments are part of the show, but the humor and sense of care among our group of artists continues to amaze me. I now have 35 new friends whom I greatly admire.
France Perras: That our realities are quite disparate. Yet, we are all human. And that's what bring us together.
Anaïs Pellin: The fact that everyone had the opportunity to be heard. Listening was an important part of the creative process and it made the whole process very democratic.
Anais West: I was surprised by the quarrels, the complexities and the multiplicity of Francophone communities. I think English speakers tend to look at Franco-Canadians as a monolith and they don't know much about history beyond Quebec.
What were the most stimulating elements in the creative process? And what were the hardest?
France Perras: I figured out, very early on, that this was not about me. That I was to meld into the collective, be part of a team. I had to leave my ego at the door – which is so refreshing and stimulating for me! I just had to be present.
Anaïs Pellin: The same answer to both questions: to create with 36 individuals who have very distinct realities, and to find my place in this artistic process.
Cory Haas: The most stimulating element is the experience of this show, to be at the theatre for 4 hours and 30 minutes – the cast is actually there for 6 hours every day. It is very stimulating to be so involved in this theatrical event. In addition, to hear the voices of the other artists – even if not all of what was said during the creative process was kept -, to learn the realities of all of them was a great discovery. The most difficult part were the unpleasant, even sometimes uncomfortable, conversations that took place during the process, but it is also thanks to these that this experience is completely human.
Anais West: Throughout the process, Mani Soleymanlou encouraged us to develop our own characters and to have a creative approach to the words we spoke. We created theatrical caricatures of ourselves and it was both stimulating and incredibly challenging.
What's different about your acting compared to the plays you normally do?
Anaïs Pellin: I'm playing a caricature of myself, which I've never played before. Strangely, this is perhaps one of the things that was the most complex for me in terms of interpretation during the creative process, and which is now the most stimulating part since we started rehearsing and playing the show in front of an audience.
France Perras: Well, it's me on stage, not a character. Or should I say a "stereotype" of myself… You'll see! The other thing is that I say nothing. I have two lines in the show. Those who have seen me on stage before, talking non-stop in most plays, may be surprised by my silence. It's a phenomenal exercise to listen, for an actor, and to be in the moment. Simply being present on stage, without saying anything.
Anais West: As an English speaker, I have never been part of a play where I had to create, rehearse, perform and basically live in French for two and a half months. The immersion in the language and the culture was total, I even started to think and dream in French, something that had not happened since I was a child.
Cory Haas: I play a slightly stereotyped version of myself. It's a level of play that I really like. There is a certain distance which allows a lot of humor and sometimes even discomfort. It is also vulnerable and it allows us to get even closer to the audience.
A striking moment during the creative process, the rehearsals and/or the first performances?
Cory Haas: Because we come from all over the country and represent the cities/realities in which we play, each theatre responds a little differently. It is remarkable to hear the audience's responses to this. For example, we played in Sudbury where the university had just closed a significant number of French programs, and the response from the public when the subject was brought up was full of emotion!
Anaïs Pellin: The fact that we plunged so quickly into extremely delicate debates after only 3 days of rehearsals; this created a kind of chemistry in the group. We have become a real troupe in just a few weeks and I think this closeness between us is reflected on stage. Also, the reaction of the public after the performances, they stay after more than 4 hours of show and want to discuss with the 36 actors, it is very exciting!
Anais West: My conversations with the other queer and particularly trans artists in the show were profound – the struggle for trans and non-binary rights in the French-speaking world is entirely different, among other things because of the gendered nature of the language.
France Perras: I think the whole gang was shaken up by the process. It's a process that's difficult to describe – but in a few words: all that we say on stage, was said during the creative process. A type of "verbatim theatre". It makes us all very vulnerable, and I had the great privilege to witness these artists reveal themselves, share, allow themselves to be truly seen… It was an enormouse gift! I feel so very lucky.
What would you say to the Vancouver audience to encourage them to attend this unique event?
Anaïs Pellin: You will never see another show like this in your life. Don't miss seeing so many French-speaking theatre artists from all across Canada reunited on stage, it won't happen often!
France Perras: Once again: out of this world! 36 Franco-Canadian artists on stage, from across the country. Come discover artists from across the country. Give yourself the gift of being confronted, your biases being challenged, your judgements being revealed… it's not to be missed! It is guaranteed that you'll have something to discuss over a drink after the show!
Cory Haas: Such a huge show is rare, especially in Vancouver. It is a one-of-a-kind theatrical event – ​​3 plays, almost 40 performers on stage. It's a marathon, which will be worth it when you get out of it.
Anais West: Un.Deux.Trois. is probably one of the most unique theatrical experiences you can have in your life. In terms of size, ambition and number of perspectives represented on stage. The chorus of different voices that you will witness is exhilarating.
________________________________________________________________