Un.Deux.Trois.: the creation of a work beyond the usual norms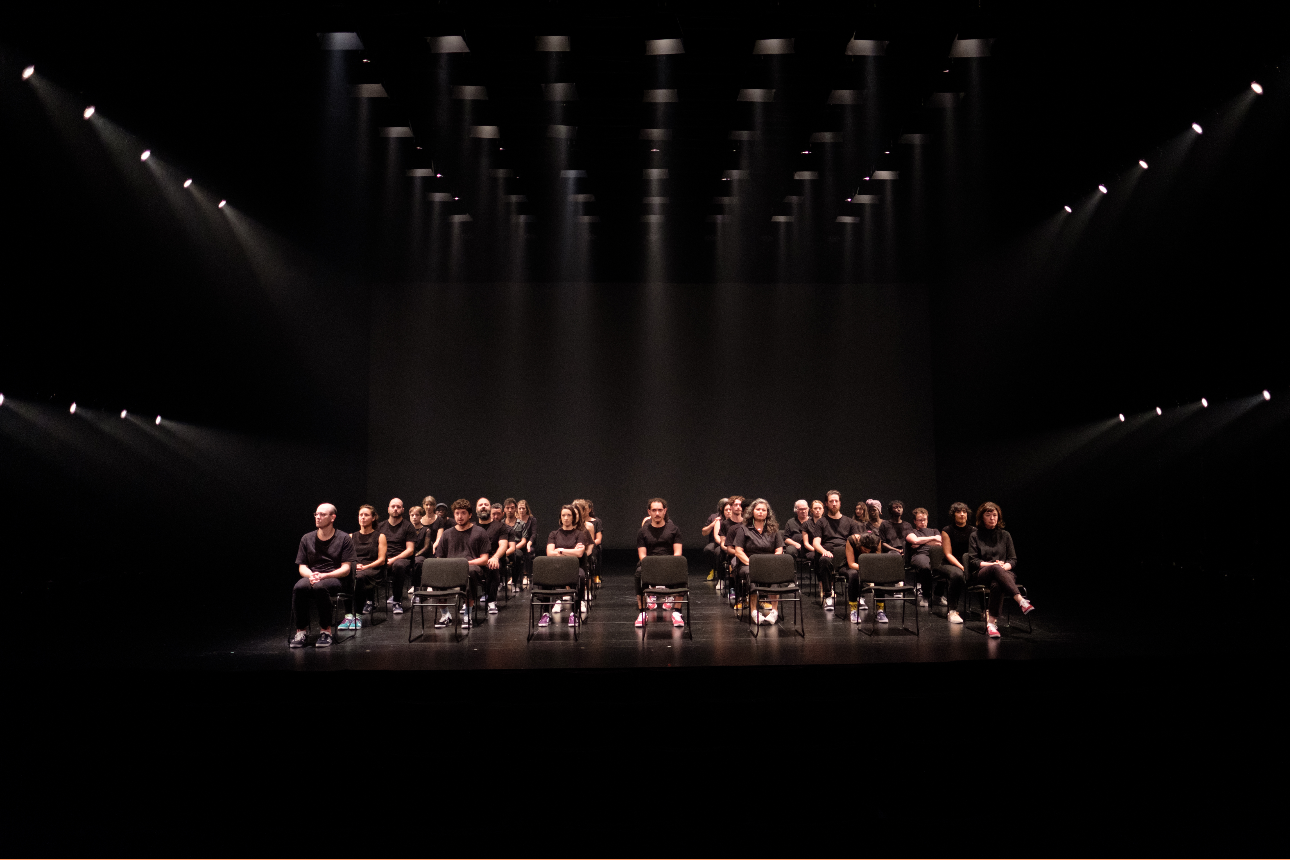 It's no secret: Mani Soleymanlou loves numbers. After presenting works ranging from the solo piece "Un" to the podcast "Probablement Onze" and onto "Zero" – presented in Vancouver in February of 2022 -, he returns to "Un.Deux.Trois.", his grand symphony on identity. Presented in Montreal in 2014 and in Paris in 2017, the production that previously delved into the Québécois identity and subsequently the French one, this time focuses on the French Canadian demographic. Supported by an all new cast hailing from different backgrounds, the actor and director constructs with them a choral work that is both touching and celebratory.
Un.Deux.Trois., what is it?
Un.Deux.Trois. is three shows in one. A creation that brings together from the four corners of Canada non native, indigenous and Métis, all francophone. Co-creators who stage their lived experience, their ideas, their aspirations and their frustrations to question what makes them who they are, what divides them and what brings them together. A great daring theatrical work without speeches or placards, without rhetoric or platitudes, off to encounter the public from Vancouver to Moncton, passing through Ottawa, Montreal, Quebec, Toronto, Winnipeg, Caraquet and Sudbury.
A tour from one ocean to the other with this great a number of artists never before seen in the history of francophone Canadian theatre! How did this idea (somewhat crazy) come to pass, to present this work of identity throughout the country?
After the pieces Un (2012) and Deux (2013), Mani Soleymanlou had the desire to combine his words and those of Emmanuel Schwartz (his collaborator in the duet Deux) with cacophony of voices, in order to blow up the border wall between the supposed "Us" and the supposed "Them". In this enormous country where the chasm continues to deepen between native and non native, between francophone and anglophone. In this Canada today in which 20% of the population consists of immigrant communities. And if rather than addressing these issues of identity through individual journeys, all these solitudes came together onstage and transformed this presumed cacophony into a symphony? A francophone symphony to question what, coming from this language, distances us from each other, what brings us together, what raises us up individually and what exceeds us collectively.
Trois was created and presented in Quebec in 2014 and then in France in 2017. What are the differences in the new version with francophone artists hailing from the four corners of Canada in 2022?
In 2014, Trois took its theme from a Quebec that was embroiled in a debate about secularity and immigration, and like a life buoy tossed into an ocean, the issues have remained unanswered ever since. In 2017, Trois followed its path to a traumatized Paris in the midst of a presidential election campaign with the after effects from the brutality of the Bataclan massacre still shaking a France that seems to have lost its way. In 2022, Trois comes back to life in Ottawa, then crosses Canada (preceded by Un and Deux), a country recovering with difficulty from a health crisis without precedent, a crisis that highlighted the inequality among its inhabitants. This required a very different Trois as circumstances did not fit the previous two versions of the show. The political and cultural heritage of North America, the diversity of its communities, the vastness of its territories with their varied climates, acted as ports of entry to an entirely new production nuanced and intense in its own right. Trois is a search for collective intimacy, a kaleidoscope of engaged voices in which francophones and francophiles share their vulnerabilities of identity in the pluralistic Canada of today.
How does the creative process work with almost 40 artists?
This process ensues from a significant collective and choral work. Trois is based on the opinions of each and every of the artists involved. In advance of rehearsals, a questionnaire was sent to learn who they were, from their origins, political or religious opinions to their definition of their individual identity or their vision of the evolution of the French language in Canada. This first step allowed the creation to begin. In an interview*, Mani Soleymanlou explained: "I worked with each one of them in advance to record their testimony. I am the official author of the text, but in fact it is a collage of what the artists said via videoconference and in rehearsal. It is intimately tied to who they are but it is not documentary theatre. It is entirely scripted."
Together they constructed a great patchwork of identity and raise their voices in a symphony of multiple francophone accents that we can't wait to discover on stage.
* Interview with Emmanuel Martinez, Le Journal de Montréal, published on Oct. 15, 2022
This article was written based on information conveyed by Orange Noyée.
---
Un.Deux.Trois. is presented at Scotiabank Dance Centre in Vancouver on November 11 & 12, 2022. Don't miss the opportunity to see this very unique show! Please note that the performance is about 4 hours and 30 minutes long, including two intermissions.
More information and tickets on the page of the show.