Le Potager: interview with Érika Tremblay-Roy and Karine Sauvé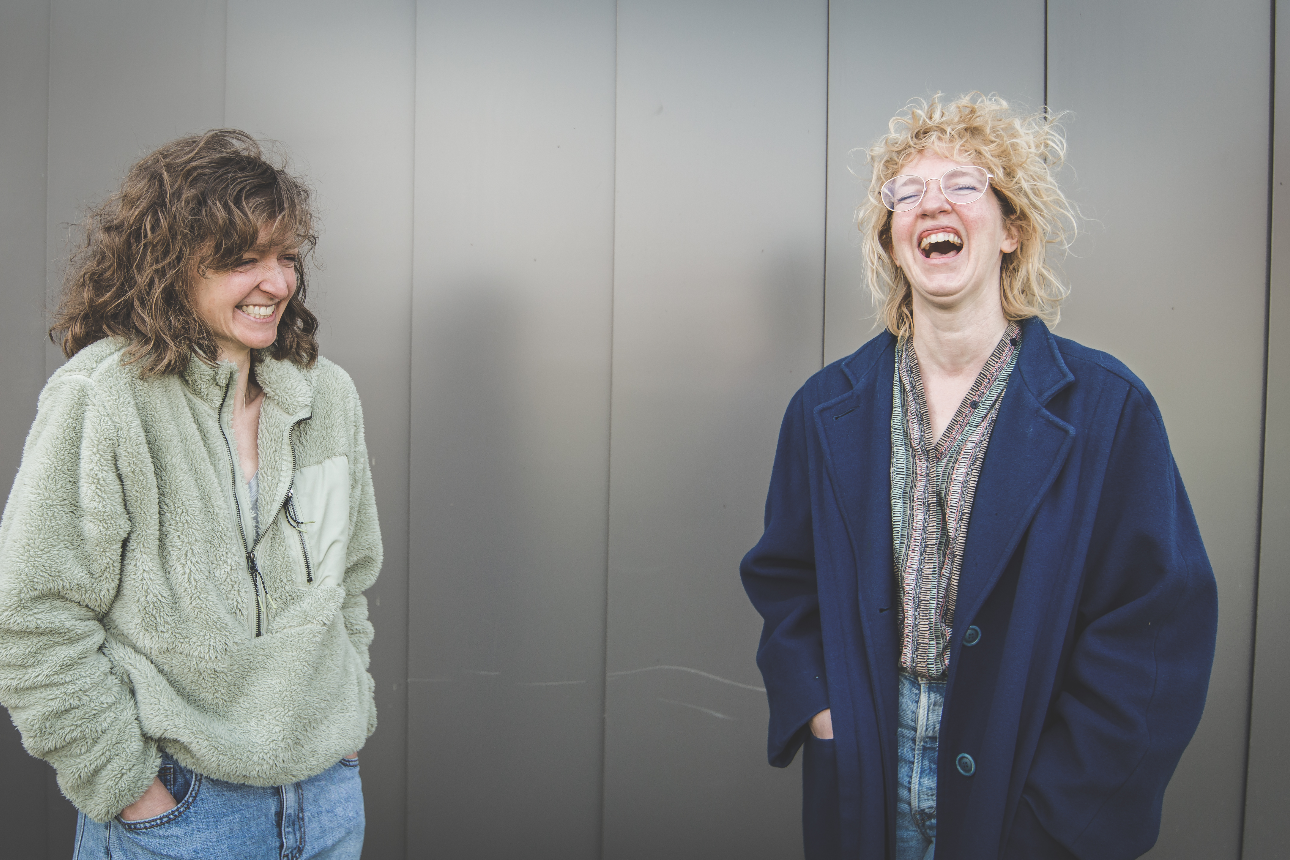 From February 2 to 5, we have the pleasure of presenting Le Potager, a production by the Petit Théâtre de Sherbrooke, for toddlers aged 2 to 7! Throughout the show, we dance together, we go crazy and we marvel at the simplicity and beauty of nature in a greenhouse. This is the collective and festive experience that Karine Sauvé and Érika Tremblay-Roy wanted to create with this bold and rocking work for young children. They discuss their collaboration, their shared musical tastes and their desire to literally put their hands in the earth!
How did Le Potager come about? Where did the idea come from, the desire to develop this piece?
Érika Tremblay-Roy: Karine's and my desire was firstly to have access to a creative space, a blank slate. With the idea of developing a piece for young children, the vegetable garden emerged very quickly as a space where the two of us felt comfortable. We had the desire to create something for the little ones that brought so much happiness and sense of well-being, where we had had the experience of growing up. We also found that the vegetable garden is a parallel to early childhood. It's a space where things require a lot of care and evolve slowly. It made us think of those young children who are very demanding on a daily basis like a vegetable garden. But it is so satisfying to watch what grows, what explodes in colour, and what emerges as fruit and vegetables. The vegetable garden, like the little ones, has a lot of power, a life force.
This idea of working in a vegetable garden came about before the pandemic, but we were really lucky that we were allowed to continue to work on the project despite the lockdown. We started working outside during the summer of 2020. Karine, who lives in Montreal, was able to come to my place, in the countryside, in the Eastern Townships. She stayed in a small trailer on my property and so we could continue working while respecting the sanitary measures. The cherry on the sundae was the fact that the vegetable garden became a source of comfort for those who suddenly had the time to commit to it: vegetable seeds became almost as rare as toilet paper in May of 2020! And so our initial interest in the vegetable garden was taken up by new people, new amateur gardeners. I think everything was there to dive happily into this new adventure.
Can you speak about your collaboration? Was this the first time? How did you work together?
Karine Sauvé: Érika and I met when I was an artistic advisor to the team from the Petit Théâtre de Sherbrooke for their "Histoires à plumes et à poils", a work for young audiences. It was a wonderful encounter. We were curious about each other, we had good chemistry, and so we concluded that it would definitely be a good idea to create a piece together.
When we work together we put our wishes first, what needs to develop, what we want to say. As far as this piece goes, we wanted to create something that was connected to early childhood. We combined our worlds, which aren't very different from each others, and we discovered a show that could gather our strengths as well as our spirits. Going from there we are really immersed in the process of creating, of developing a concept, and we give ourselves time for writing.
It was incredible with Le Potager that we literally put our hands in the earth. Well, Érika was the one who put her hands in the earth, together with her daughter Claire from time to time, whereas I went to the country to film! We filmed lots of phases throughout the various seasons of the creation of the vegetable garden. During that time we often sat outside, not far from our vegetable garden, to write, while we spoke and shared our work. With the songs we wrote we worked with Guillaume Gilbert, a fabulous composer, to whom we gave the "musical colours" and who subsequently developed the compositions based on our texts.
The music and the video are essential elements of this show. Did you know from the outset that you wished to combine theatre, music and visual arts?
Karine: Yes! Theatre, music and visual arts have always been inherent to the project. With the Petit Théâtre de Sherbrooke, Érika has worked with different media to create works that are often combinations for which she gathers designers and artists of various disciplines drawing on their particular strengths. She's also a musician. As for me, I also integrate visual arts and music in my practice. It was therefore obvious.
For me it's often the architecture and the encounter in the moment, the fact of being in a venue, in the dark, all together, that is the basis of theatre, more so than the narrative or the characters. We therefore wanted to create a concert that would really be a visual work of art. From the very beginning we wished to create an interdisciplinary work for young children.
As far as the music is concerned, why did you opt for rock? And how did you go about finding the three musicians who play in the show (Guillaume Gilbert-guitar; Simon Bergeron-drums; Fred Giguère-vocals)?
Karine: We really had the desire for the music to be rock. That was something Érika and I had in common. Young children are also easily attracted to this musical genre even thought it is rarely offered to them. There are really amazing theatre shows for young children that are often very mellow. But we've observed that in family settings, when we play rock music and dance, it's almost a given that the youngest members will join in, that they will have a sense of the beat and feel it in their bodies.
We wanted this piece to be available to the whole family, in the theatre, in a community environment. It's wonderful when the young children can experience the show all together. It's also fun to see how the atmosphere can be different between the (pre)school shows and the family performances. It's so beautiful to see the family members quietly get up and sometimes wait for the final song to really begin dancing. As opposed to the daycare groups where from the first note there's always one child who will bounce up followed by all the little ones beginning to dance together, holding hands and jumping around. There's a powerful energy. We try to find a rhythm to the show so that the public can sit back down, and things can calm down before starting up again. There is something so exhilarating in rock music, so accessible.
As far as the three musicians are concerned, Fred Giguère works for le Petit Théâtre de Sherbrooke. She has a wonderful voice and was in a band with Guillaume Gilbert, composer in addition to being a fabulous guitarist. So we started working with them and they proposed Simon Bergeron as drummer, another very gifted musician from Sherbrooke.
The show was presented dozens of times in Quebec during the autumn of 2022. Were there notable moments, reactions or comments from the children or their parents that are particularly memorable for you?
Érika: Yes, obviously, there were as many special moments as there were performances! During the autumn of 2022, the show was presented almost 40 times. It was the second season for Le Potager, we are close to 100 presentations in Quebec. Among the moments that stay with me, there is that of a very young child with his daycare group who from the very first notes of music got up all on his own and started to dance. He was captivated for the whole 40 minutes of the show. At the last note of music he applauded, but once the musicians left the room he started to cry with tears streaming. He did not want this opportunity to dance to end.
There are plenty of moments like these through the show, where we see children grabbing the chance to be free with their bodies, to dance, to express themselves. They are made for this, they are made to live in their bodies. And not only the children. It's wonderful to see when the parents and grandparents dare to get up. The adults are sometimes more reserved than the children when it comes to letting go. But once the magic takes over in the family performances, and the children and adults allow themselves to take part together, something magnificent comes about. Suddenly we are all together.
Le Potager is a show that comes alive as much by what is observed in the room as by listening to the music and watching the videos projected on the greenhouse. The show generates a lot of joy. It makes me happy, too.
What would you say to Vancouver parents to encourage them to take part in this theatrical experience with their little ones?
Érika: Think of how it feels good when you put on music in your living room, when you dance and get silly with your little ones. The show gives you permission to do this! It's not a show during which you are expected to remain politely quiet, but one in which you can express yourself. If you wish to start the experience now, you can also listen to the music from the show before coming to the theatre. All the songs are available online for free. It's even more engaging when you already know the music being played by the musicians during the show. I therefore invite you to listen to the music "en famille" before and after Le Potager, and to come dance with us!
---
Le Potager will be presented Feb. 2-5 at Studio 16.
The performances on February 2 and 3 at 10:00 am are open to (pre)school and daycare groups only. Please contact us by email at ventes(at)seizieme.ca or by phone at 604.736.2616 for more information and to book for a performance.
Family performances on Saturday, Feb. 4 at 2:00 pm and Sunday, Feb. 5 at 10:00 am.
Join us for an unforgettable moment with your little ones, and get in the mood of the show by listening to the music of Le Potager available here.
Info & tickets on the page of the show