Behind the scenes of Crème-Glacée with Marie Farsi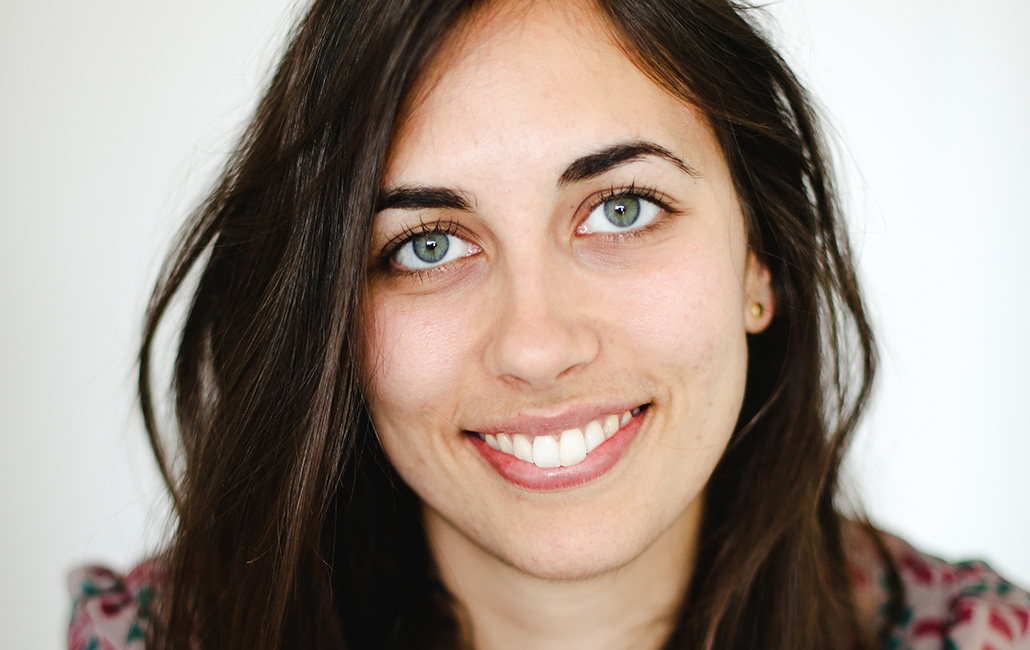 Marie Farsi found the time to answer our questions. She explains her creative process, her inspirations and how she worked with the production team to create a universe as sweet and tasty as a bucket of ice cream. Take a peak behind the scenes of this new young audience creation!
Hello Marie!
1. For the very first time, you are working for Théâtre la Seizième and you are directing Crème-Glacée, this season's young audience show. Can you explain how this collaboration came about?
I have been wanting to join the artistic family of la Seizième for almost 6 years. I dreamt of being able to contribute to the development and the flourishing of Canada's francophone theatrical scene within a company that is truly respected and admired. After Esther Duquette was appointed Artistic Director of Théâtre la Seizième, I contacted her to discuss the possibility of working with her and the company. Esther knows much about my directing and drama creation work; that's why she challenged me into proposing and creating a show for young audiences. During the autumn of 2016, I did some research, read, and discovered many plays written for children. This play by Marie Hélène was my favourite. It's how I presented it to Esther and how she came to produce the show!
2. Tell us a bit about this play that had yet to be produced. What did you like the most in the text written by Marie-Hélène Larose-Truchon?
First of all, I fell in love with the four female characters – from different generations – living in this funny, fantastic, and ludic universe. They all speak a rich, colourful language full of imagery. The text is also very real. It shows a single-parent family model and raises fundamental questions about our responsibilities towards ourselves, those around us, and the environment. I really appreciated the depth of her text.
3. All the characters are women, representing many generations. Would you introduce them to us?
Our heroine, Crème-Glacée, is a curious and rebellious little girl who loves stories. Her mom, Madame Sa Mère, is a young woman with a very busy schedule, is working to save the environment and never has enough time to finish the stories she tells her daughter. Samantha the sitter is a typical teenager: a romantic rule breaker with the heart of a child. Finally, a strange character called la Vieille lives at the bottom of the ice cream bucket. She is a bored old lady who adores perfume… These four women are not perfect; they are very human and very touching. As they discover the other, they learn to live with themselves and to love themselves as they are.
4. La Vieille will be represented by a marionnette handled by one of the actresses. Why a puppet? What made you choose this medium?
Because of my aesthetic and stylistic choices, I wanted to highlight the poetic, supernatural and incredible nature of the play, especially the world at the bottom of that bucket of ice cream. With a marionnette, I can distort the physical laws of that universe, play with scales and give a soul to this inanimate object. When you bring an inert thing to life, it's magical, surprising and almost mesmerizing. The character of 'la Vieille qui s'emmerde' embodies all these elements : for me there were no doubts, she HAD to be a marionnette!
5. What kind of atmosphere did you visualize on stage? How did you work with the production team to create the universe of Crème-Glacée?
I wanted the set, the marionnette, and the music to take us directly to a sweet, sparkling and playful universe. When I start working on a show, I gather images and inspiring items which make me think about the atmosphere, the places, the characters and even the emotions of the play. Images were especially crucial because the production team didn't have access to an English script. These pictures helped bring to life the world I had in my mind; it's a great starting point for the production team. The biggest challenge in this project was to visually create two very distinct worlds: Madame Sa mère's kitchen-living room and the bottom of the bucket of ice cream where La Vieille lives. A rotating set perfectly reflects the colourful world of Crème-Glacée where things are constantly moving and changing. To me, Madame Sa mère is a Vancouverite so I tried to make the world of Crème-Glacée reflect our British Columbian reality. To do that, the Commercial Drive neighbourhood of Vancouver with its old 60's apartments and its bohemian and cosmopolitan spirit became our source of inspiration. Indeed, it's the place where most artists, vegetarians, and committed people live.
6. What do you think is the main challenge associated with creating for children? What are the differences with main stage theatre?
Children and their inner honesty are the best audience: they intuitively feel the good stories! You must capture their attention from the beginning and not lose it. The secret is in the rhythm, the energy, interesting characters they can identify with, and of course a world that fires up their imaginations. With this show, we wanted to reach the 6 to 12 year olds. This requires maturity in the writing, nuances in the acting while staying accessible thanks to the humour, theatrical magic, and a simple story.
7. What is your tip to engage the 18 000 students in BC and Alberta who will see the show during the next weeks?
I'm banking on humour, the finesse in the writing and on an epic staging. I gathered all the necessary pieces to make Crème-Glacée a punchy show supported by stylized and physical acting anchored deep into the sensitivity and sincerity of the characters.
Thank you very much Marie. We wish you a lot of fun during the creation of Crème-Glacée. Rehearsals started two weeks ago and we can't wait to see the results on April 7th!