VIOLETTE, a safe immersive experience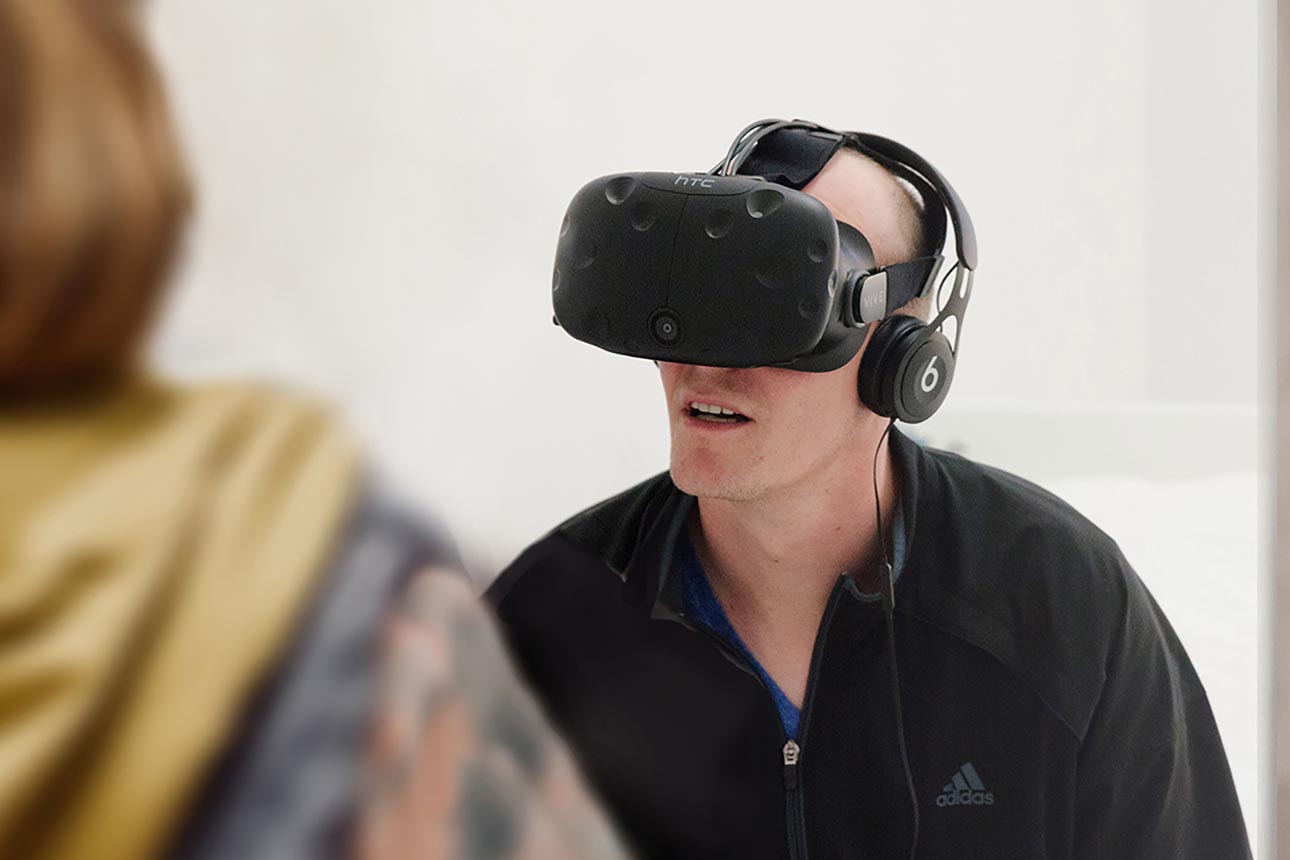 VIOLETTE, a production by Montreal-based company Joe Jack et John, is an intriguing and innovative creation in many ways, beginning with its unique format and use of virtual reality. What can you expect? How will the experience go? How many people can attend? Is the experiment safe under the current circumstances? We've pinpointed a few aspects we hope will address your questions.
What will the experience be like?
At the start of the experience, the hostess will welcome you and invite you to sit in a booth. After a brief interaction, she'll guide you in putting on the virtual reality headset (previously disinfected) through which you'll have access to the same space, life-size, where you'll be able to follow Violette's story. At the end of the virtual experience, you'll remove the helmet yourself. You will then be alone in the booth. At this point, you can leave the booth and the venue by the path indicated to you. The total duration of the experience is 25 minutes.
Is this experience safe?
From the moment we welcome you to the end of the show, we guarantee a rigorously safe experience! In addition to the fact that each visitor will be alone in the booth, the virtual reality headset and headphones worn during the experience will be disinfected between each use by means of a Cleanbox, a technology projecting UVC rays, certified to eliminate the coronavirus. With minimal interaction and contact with surfaces, we guarantee this experience is safer than going for groceries! To understand all the arrangements made by Théâtre la Seizième, please consult our page Safety Measures.
What is virtual reality?
Virtual reality (or VR as it's commonly called) is a technology that generates "realistic images, sounds and other sensations that simulate a user's physical presence in a virtual environment. A person using virtual reality equipment is able to look around the artificial world, move around in it, and interact with virtual features or items." This technology therefore artificially reproduces a sensory experience, which can include sight, touch, hearing and smell. In order to guarantee total immersion, the user employs a virtual reality headset. (source: Wikipedia).
Virtual reality: who is it for?
Virtual reality headsets are intended for users 13 years old and up. In rare instances, this technology can cause undesirable symptoms in people with medical conditions, as well as in pregnant women and the elderly. We invite you to take note of the health precautions related to the use of virtual reality on our page Health and Content Warnings.
Can I come with someone else?
Unfortunately, the work installation being accessible for only one spectator at a time, you will not be able to go through the experience live with your loved ones. But you can absolutely reserve your spots so as to take part in the experience one after the other, and share your impressions afterwards! Allow between 20 and 30 minutes wait between each spot. The experience is also available, at regular intervals, in both French and English. Choose your time slots on our online ticket office.
Will I have to wear a mask?
To date, wearing a mask is compulsory throughout the building, until you enter the room. Since you'll be alone in the booth during the experience with the virtual reality headset, you're free to remove your mask if you wish.
Do you have any other questions regarding this show? Don't hesitate to contact our team by phone or at info@seizieme.ca.