Say hello to our new recruit!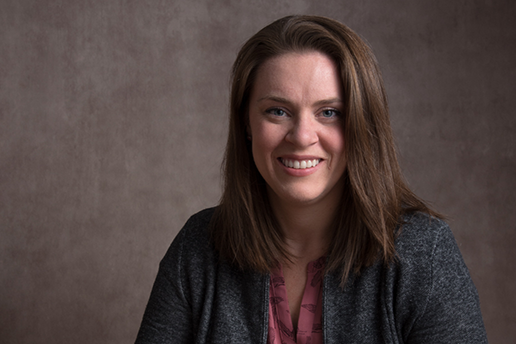 Our new Francophile recruit, Catherine Ballachey, is taking over the position of administrative director. After several work experiences with different theatre companies in Ottawa and Vancouver, Catherine chose as her next move to take the rein as administrative director of a French-speaking theatre. We are really happy to start a new adventure with her!
Could you tell us a bit about yourself and your background?
Sure! I'm originally from Ontario, but my family moved to Vancouver when I was 14. I studied Theatre and French at Simon Fraser University, after which I worked for a number of different theatre companies in administrative roles. In 2013, I decided to go back for my Masters in Dramaturgy. I chose the University of Ottawa in order to pursue my degree bilingually. During my time in Ottawa, I worked for a few different theatre companies, but after working part-time in the Box Office for the Great Canadian Theatre Company, I started full-time as their Front of House and Education Services Manager/Artist Liaison. Last fall, I decided to move back to Vancouver to be closer to my family. Until recently, I was working as Ticket Sales Supervisor at the Arts Club, but I'm excited to start with Théâtre la Seizième as Administrative Director!
 For you, Theatre la Seizième is…
A community! Where else can francophones and francophiles come together to experience such bold and exciting theatre?! As a francophile myself, I've always admired the work of Théâtre la Seizième.
 What are you passionate about?
Liveness, which is more than a little tricky during a pandemic! I truly believe in the importance of the performing arts. Studies have shown that the heartbeats of audience members sync up as they're experiencing a show together. The Greeks called it "catharsis", an emotional release. The performing arts bring us together unlike nothing else, and I'm honoured to be able to contribute to this vital industry!
 Which play had a great impact in your life?
So many! However, I think I would have to say "Waiting for Godot" by Samuel Beckett. Did you know it was originally written in French? I've always felt a sense of camaraderie with Beckett, a fellow Francophile. Plus, I got to see it performed by Sir Patrick Stewart and Sir Ian McKellen in London at the Royal Court. They blew my mind!
 A funny anecdote you want to share with us?
A lifetime ago, I used to be a performer. Do you want to know the role that made me decide that a career in theatre was my future? Pumbaa in "The Lion King". I was 9 years old, and I KILLED it!
Thank you and welcome to the team, Catherine!