La Détresse et l'Enchantement: interview with Marie-Thérèse Fortin & Olivier Kemeid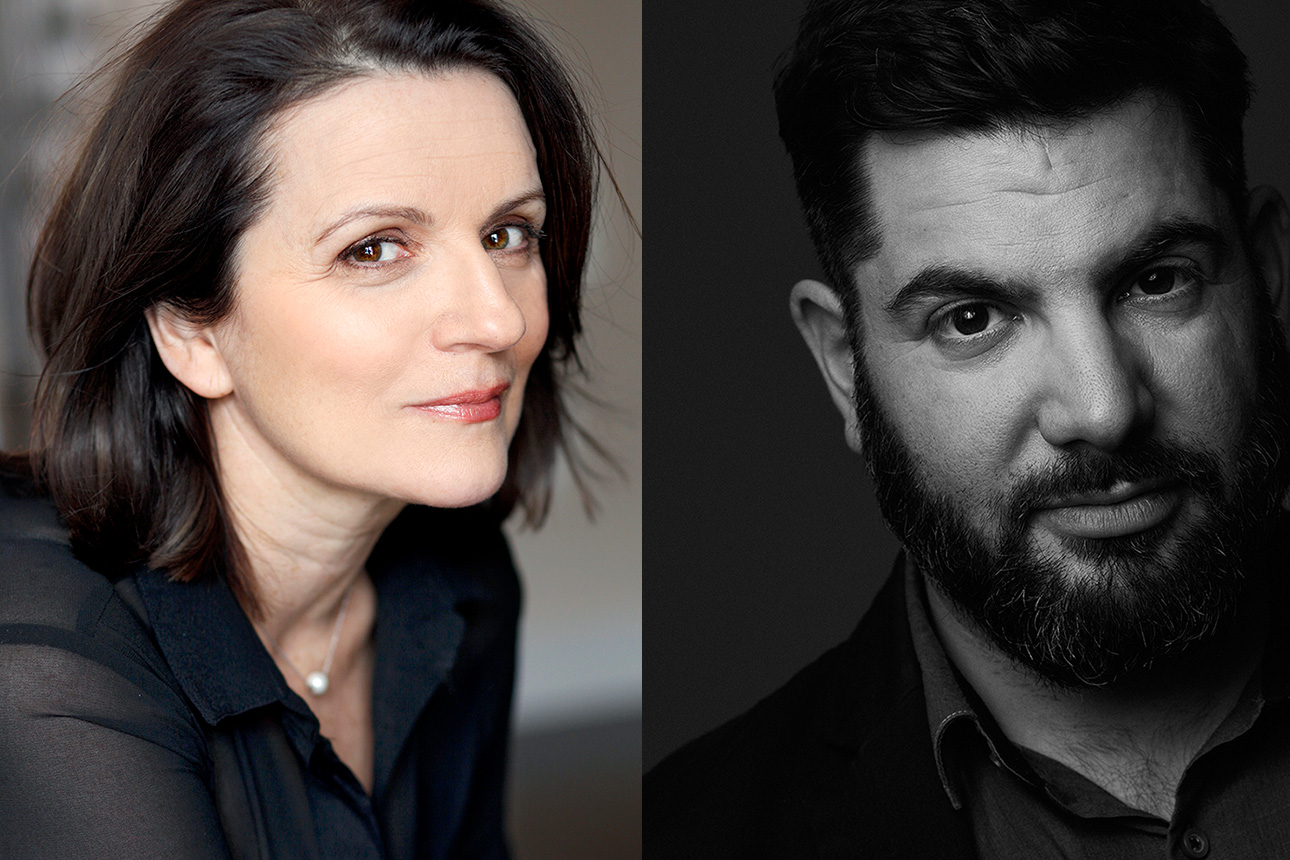 We talked to performer Marie-Thérèse Fortin and the writer/director Olivier Kemeid. Together, they developed a theatrical montage of Gabrielle Roy's autobiography La Détresse et l'Enchantement (Enchantment and Sorrow). In this show, that we are welcoming in April, we follow the journey of this prominent Franco-Manitoban author as she finds her voice and her path through life. With a lot of admiration, they talked to us about this Canadian literary figure and about their work together.
When did you find your voice/your path?
Martie-Thérèse Fortin: That's a big question! I think I was in college. I was studying in education sciences, math option, and I didn't really know what I wanted to do in life – like many young people – but there was an active theatre troupe at the Matane (Québec) college, it was run by someone named Michel Bouchard, a tourism student, who later ended up becoming Michel Marc Bouchard, the playwright that we know. I started doing student shows with this troupe for two years, and a professor saw me on stage and encouraged me to audition for theatre schools. Without him, I don't think I would have ever gone on my own. I didn't think it was something I could have access to. I came from the countryside, from an agricultural family, and for me, theatre schools were reserved for children of artistic families. He encouraged me to audition, and I was accepted at the Québec Conservatory where everything started.
Olivier Kemeid: My writing voice came when I was 11 years old, I was on a sail boat, it was 1986. My theatre voice, I was in university, I was studying political sciences and I did theatre after school, and that's where it really developed. Ten years later, ten years after the shock of writing.
Marie-Thérèse: Politics do lead to anything! (laughs)
Olivier: We talk about political 'actors', the international 'stage'…In fact, I used to write speeches for politicians when I was a student in playwrighting at the National Theatre School. It paid a lot better than writing plays, but a lot less fun! (laughs)
Let's start from the top. La Détresse et l'Enchantement is the unfinished autobiography of Gabrielle Roy. It's anchored in our literature. Marie-Thérèse, you started having reflections about a theatrical adaptation almost thirty years ago. Why was it so important for you to take hold of this novel? Where did this passion for Gabrielle Roy, to bring her to life on stage, come from?
Marie-Thérèse: Reading La Détresse et l'Enchantement was a real shock. I had read a really good article on her autobiography, and I loved the title, it stuck with me. I was a young performer coming out of theatre school when I started reading her book and it spoke to me. It spoke to me because I recognized the stories of my family, I could see the characters she talked about. The voice of Gabrielle Roy, her way of telling stories, of bringing characters to life, of naming the emotion, the sorrow and the enchantment that lived in her, it all really connected with me. I think that's the case with all of Gabrielle Roy's readers. She has the strength as a writer to know how to reach people, to articulate an emotion and a journey; her way of telling stories is formidable. What I didn't know is that she had wanted to become a performer, she became involved with productions, she had acted, and seriously thought about training as a professional actor in England. I find that I can sense that in her style of writing, in her way of telling stories, and it is this theatrical aspect that I could see coming through the writing, that made me want to bring that voice to the stage. Her voice felt alive, a voice that could express itself on a stage. So, I started making this montage, but the first readings that I did were simply extracts from the novel because I couldn't make decision on what to keep! (laughs) Year after year, I'd start working on the project again. I started seeing everything I could leave out that belonged more to the literary world and what could be better suited to theatrical expression. Then, it's Olivier, who I had been in touch with, that told me that the International Literary Festival wanted to celebrate the 100th anniversary of Gabrielle Roy. I spoke to him briefly about the montage and he told me he had spoken to the organizers of the festival, and that we could potentially present the project to them.
Olivier: I was quite unknowledgeable about Gabrielle Roy. I had read Where Nests the Water Hen, which was obligatory reading when I was a student, and The Tin Flute on my own. So, I dove into this piece of work (La Détresse et l'Enchantement) which I found fabulous, but it was so literary that I wasn't sure I could see its theatrical potential. Marie-Thérèse had the intuition that her language was beautiful to hear, but I thought it was beautiful to read even though it was complex. She was such a writer, this writer! (laughs) What I am saying sounds like a tautology but there are writers whose writing has such a nice orality, where the adaptation towards the stage is evident. It's not evident with Gabrielle Roy. The goal was not to adapt it, or to transform it, but keep it intact while cutting parts of it.
The novel begins with this beautiful sentence, the same sentence that you start the show with: 'When did it first dawn on me that I was of those people destined to be treated as inferiors in their own country?' It's a powerful phrase. Is it something that spoke to your own humanity right away?
Marie-Thérèse: Yes, very much so. In our collective memory, I think there have been periods where being francophone in Canada was problematic, and in certain regions of the country, it still is. Even in Quebec, there was a dominant class and an inferior class; the majority of both, were Francophone. I think this collective memory has a lasting impact through time, we inherit and we carry the effects of this history. Even though we've freed ourselves from some of these effects, traces of this condition remain. What really touched me when I read this first sentence by Gabrielle Roy, was that I realized that I was not aware of what it was like being francophone outside of Quebec, and at the same time, when she talks about visiting Eaton's (a large department store) with her mother, I completely understood. I knew exactly what she was talking about, and I felt that this difference was extremely precise and alive. Something has remained, this difference, a certain superiority and inferiority, which is maybe not experienced the same way but is still here. So, when Gabrielle Roy talks about this inferiority, I know what she is talking about.
Olivier: We've been caught up by reality. I felt like we were being useful talking about what Marie-Thérèse is saying, the roots of misunderstandings, difference, and injustices. And then, while we were touring, there was a moment in Ontario where the government decided to shut down French-language schools. Marie-Thérèse was describing the life of young Gabrielle Roy, obligated to go to school in English, and the same thing was happening in 2018-2019. We couldn't imagine that these things would happen again. It's quite surprising, for Gabrielle Roy we are talking about events that happened at the start of the 20th century. Another powerful theme in this piece and that resonated was the fight she had to put up as a woman. The sacrifices she had to make to live a full and free life as a writer were eye opening. It had to be out of wedlock, with no family: the reconciliation of those two things was unthinkable at the time. Nevertheless, there are still battles that woman are leading now and that resonated a lot in theatres, when we toured in across Canada. I remember seeing many young girls who came with their grandmothers. Mutigenerational audiences who found, echoing through the play, despite the age gap, this search for 'a room of one's own', to paraphrase Virginia Woolf. That was Gabrielle Roy's quest, and it was shattering. I think that I perhaps underestimated its impact, its current resonance. For me, La Détresse et l'Enchantement was a duty of Memory. And I don't think I measured how much, in some ways, it described today's world. It's quite discouraging, or in any case shattering, to know there are so many more battles to be fought.
---
Listen to the rest of the interview – in French – with Marie-Thérèse Fortin and Olivier Kemeid in the fifth episode of our podcast series 'En coulisses', to learn more about the montage of Gabrielle Roy's autobiography and the other artistic aspects of the play. La Détresse et l'Enchantement will be presented April 21st-April 23rd at the York Theatre. Information and tickets available on the show's webpage.