Interview: André Gélineau & Gilles Poulin-Denis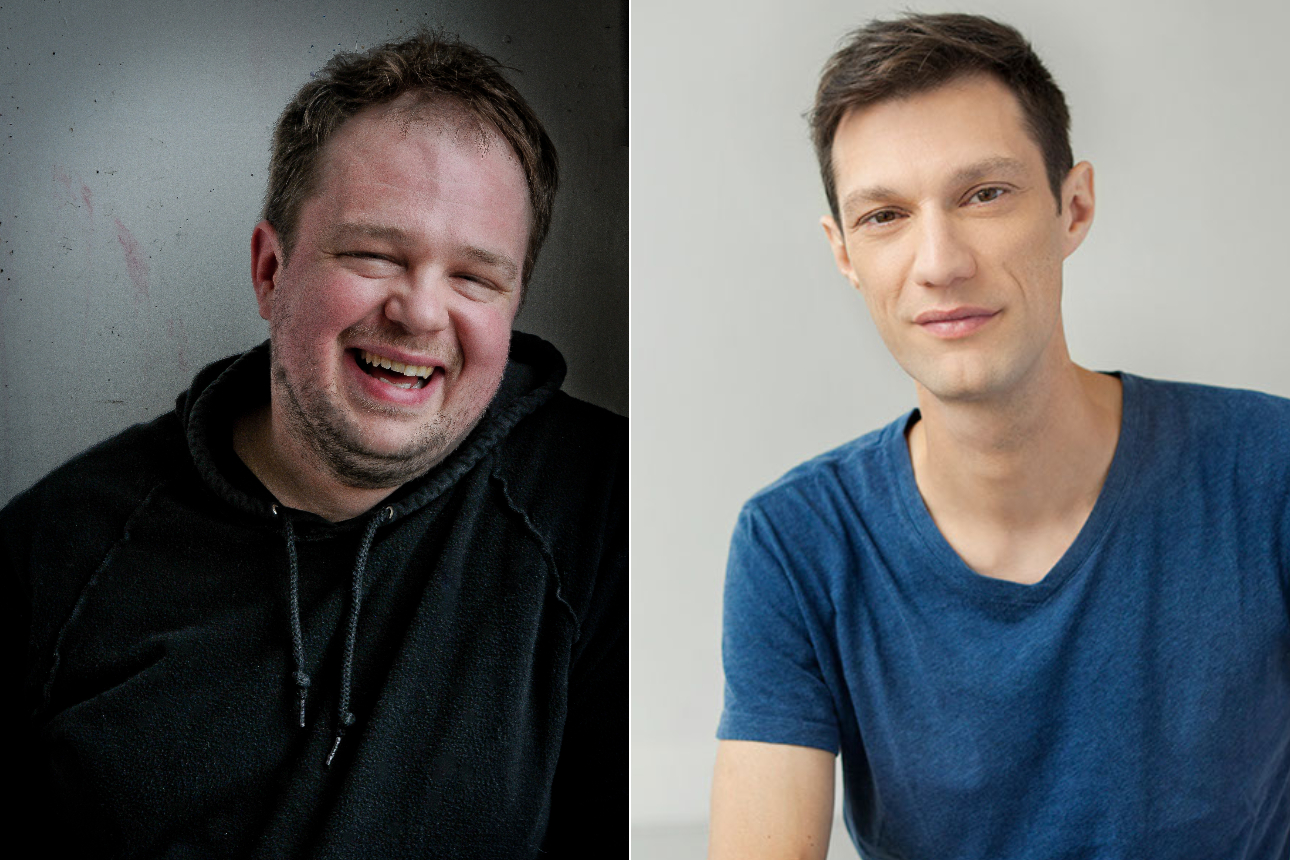 During an encounter at Video Cat in Vancouver, one of the last remaining video stores in the city, André Gélineau, author of S'effondrent les vidéoclubs, and Gilles Poulin-Denis, director of the show, chatted about their inspirations, their creative processes and the artistic aspects of the peculiar universe of the play. Here's an excerpt of their meeting.
Gilles: What made you write S'effondrent les vidéoclubs? What inspired you?
André: I think that the lady who allowed us to rent anything at the video store was a driving force. She inspired me the first important character: Sania, the owner of the video club. A very hard, embittered woman, but also very funny; she's the worst video club employee in the world for sure. It makes of her a very interesting character because she's caught up in that ecosystem…really, she can't wait for it to be over. I imagined that same woman at the video club when I was young, who would just wait for us to select our movies, no matter what they were, pay for them and then bye-bye. There was something interesting in that character. A character who welcomes you in this old, peculiar place with that old carpet mixed with popcorn smell. It's an atypical scent, an atypical ambiance that I've never really seen anywhere else in my life. It awoke something in me.
André: If you weren't directing for theatre but you were directing for film, is there a genre in particular that you're drawn to, that interests you?
Gilles: It's a good question. Film is something that interests me but more as an author than a director. I think it's more about how you tell the story and what film allows you to do, that isn't possible in theatre. In films, everyone is going to watch the same thing, you can control the eye of the spectator. You can also do it in theatre, but the audience is free to look at what they want, when they want. If the show is boring, they might look at the lights… In cinema, there's an absolute control of what the audience sees. So, for me, it's more about how you build a story, what are you showing when, more than the directing aspect.
André: I have a feeling that right now cinema has the monopoly over theatre on what we consume in terms of stories. Do you have the impression that film will survive longer than theatre? Do you think that one has a negative impact on the other? Or do you think that it drives theatre in a different way?
Gilles: I think it has changed. I think that cinema has a huge influence on the way we tell stories in theatre. We used to have one act plays, with a unity of time, a unity of space, and a unity of action. Cinema made it so that we were able to have flashbacks, which impacted the way we write plays and the ways we tell stories in a play. I think social media has also impacted our perception; audiences are looking for a little more reality. There's a lot more documentary theatre now. We like knowing that it's true, that it happened for real. It asks a fascinating question about the space for fiction in theatre.
André: Are there elements in here that you want to remember the feeling of, being in a video club?
Gilles: The thing that's hitting me the most is the distraction. There's always something pulling your focus, a title… On each DVD cover there's a little door towards another universe. I imagine these characters in the video club… and I am sure there's a sense of normalcy that comes into play after a while, but they're around all these universes. I think there's something in your writing as well that propels us into these universes depending on the scenes.
André: I really like this idea that they're trying to bear witness to this reality but with so much fiction around them. For the character of Sania, it's one of the stakes. She wants the fiction to disappear, the weight of it is too much for her bland life, where she feels like a prisoner. I feel that after being here for a while, always reminiscing about these fictional worlds, it's got to have an effect on you. Working in this place, the way our daily life is tinted by the weight of these stories.
Gilles: When we compare our lives with all of these stories, some of them are extraordinary. What happens in movies is extraordinary, it adds a weight to these very 'normal' lives. Is there some of that in the play?
André: Yes, these are characters that don't get to live their passions at all. They are stuck in their solitude, they live on a tiny territory, they see the same people, they continually live through the same challenges. I think the function of dreaming… for us now, dreams are more easily attainable. We find strategies to reach the elements of these desires, these fantasies, these wishes for the future, but these characters don't really live that way. Luc St-Pierre does a little more, he's the director of the documentary that is taking place in the play, but for the others, they're stuck in these 'pedestrian' ways of living. I think that cinema functions as an answer to this problem, through dreams, fantasies, or other worlds. I used to teach theatre to young people in secondary schools in Quebec. One day, a girl told me she loved cinema. When I asked her why, it's an answer that really touched me, she said it's the only place where she felt free. When she watched movies, she felt free. This way of dreaming, of entering this universe, gave her the feeling of freedom. It's something I really kept in mind when writing, especially the character of Karl-Éric, who has this same relationship. The whole of his affective life is transposed in the films he consumes.
Gilles: It becomes an escape for him…
André: Completely. It's a catalyst for something.
---
Watch Gilles Poulin-Denis and André Gélineau's full interview in four short videos on the page of the show.
S'effondrent les vidéoclubs will be presented from May 25th to June 4th, at Studio 16. Info and tickets available on our online box office system.